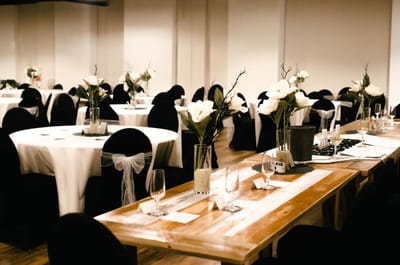 Housed in a gorgeously refurbished 100 year old building, the Walnut House is here to provide you with an incredible event experience.
We've hosted hundreds of weddings, corporate and music events, and can help you create the perfect environment for event.
Whether you need a banquet hall for your wedding, conference, concert, anniversary or any other special event, the Walnut House can accommodate up to 150 guests with banquet tables and seating. We can also host up to 250 guests for meetings, conferences or concerts and can provide custom stage arrangements.
We provide professional sound, lights and Video walls in our Main Hall, so you can decorate the whole room without lifting a finger.
We have several room sizes available depending on your event needs. Please see our Room Diagram page for more details.